[vc_row gradient_colors="%5B%7B%7D%5D" css=".vc_custom_1580147548925{margin-bottom: 100px !important;padding-top: 0px !important;}" kswr_row_top_decor_enabled="false" kswr_row_bottom_decor_enabled="false"][vc_column width="1/4″ ptextcolor="Black" gradient_colors="%5B%7B%7D%5D" css=".vc_custom_1580148038522{margin-bottom: 40px !important;padding-top: 25px !important;}" offset="vc_hidden-xs"][kswr_animationblock anch_duration="1″ anch_delay="0″ anch_type="fadeInRight" anch_reanimate="false"][vc_column_text css_animation="none" css=".vc_custom_1582045262033{margin-bottom: 30px !important;}"]TEAM:[/vc_column_text][/kswr_animationblock][kswr_animationblock anch_duration="1″ anch_delay=".2″ anch_type="fadeInRight" anch_reanimate="false"][vc_column_text css_animation="none" css=".vc_custom_1582045594943{margin-bottom: 10px !important;}"]Justin Hammons[/vc_column_text][/kswr_animationblock][vc_separator align="align_left" el_width="70″ css_animation="fadeIn"][kswr_animationblock anch_duration="1″ anch_delay=".4″ anch_type="fadeInRight" anch_reanimate="false"][vc_column_text css_animation="none" css=".vc_custom_1582046227915{margin-bottom: 10px !important;}"]Eva Goldberg[/vc_column_text][/kswr_animationblock][vc_separator align="align_left" el_width="70″ css_animation="fadeIn"][kswr_animationblock anch_duration="1″ anch_delay=".6″ anch_type="fadeInRight" anch_reanimate="false"][vc_column_text css_animation="none" css=".vc_custom_1582046243494{margin-bottom: 10px !important;}"]Stojan Vujkov[/vc_column_text][/kswr_animationblock][vc_separator align="align_left" el_width="70″ css_animation="fadeIn"][kswr_animationblock anch_duration="1″ anch_delay=".8″ anch_type="fadeInRight" anch_reanimate="false"][vc_column_text css_animation="none" css=".vc_custom_1582046560747{margin-bottom: 10px !important;}"]James Greaves[/vc_column_text][/kswr_animationblock][vc_separator align="align_left" el_width="70″ css_animation="fadeIn"][kswr_animationblock anch_duration="1″ anch_delay=".8″ anch_type="fadeInRight" anch_reanimate="false"][vc_column_text css_animation="none" css=".vc_custom_1582046842033{margin-bottom: 10px !important;}"]RJ Casey[/vc_column_text][/kswr_animationblock][vc_separator align="align_left" el_width="70″ css_animation="fadeIn"][kswr_animationblock anch_duration="1″ anch_delay=".8″ anch_type="fadeInRight" anch_reanimate="false"][vc_column_text css_animation="none" css=".vc_custom_1615388450931{margin-bottom: 10px !important;}"]Megan Michelakos[/vc_column_text][/kswr_animationblock][vc_separator align="align_left" el_width="70″ css_animation="fadeIn"][kswr_animationblock anch_duration="1″ anch_delay=".8″ anch_type="fadeInRight" anch_reanimate="false"][vc_column_text css_animation="none" css=".vc_custom_1615388480457{margin-bottom: 10px !important;}"]Lauren Busby[/vc_column_text][/kswr_animationblock][/vc_column][vc_column width="2/4″][vc_column_text]
Justin Hammons-Principal
Justin Hammons is a creative professional with over 20 years of experience in the creative marketing and advertising industry.
Justin comes from a corporate retail / co-op / franchise background, which, together with a communications degree, gives him a unique perspective on the challenges facing retailers and businesses of every stripe.[/vc_column_text][vc_empty_space][vc_row_inner][vc_column_inner][vc_column_text]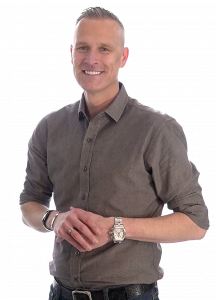 And the funny thing is this: the challenges in marketing today although different in the details are fundamentally the same as they have always been.  Connect with you consumer.  Speak to them about things they care about and communicate through channels that they listen to.  Today, that means developing tactics with a greater emphasis on digital, video and mobile apps.   Justin's fundamental knowledge of communication, paired with practical experience in these new tactics means clients have a solid partner in developing marketing programmes that engage consumer and trigger behaviour.
He's also an accomplished designer, producer, retail strategist. But his real strength remains his ability to understand the client's big picture and develop strategies and programmes that are effective and on-budget.[/vc_column_text][/vc_column_inner][/vc_row_inner][/vc_column][vc_column width="1/4″ gradient_colors="%5B%7B%7D%5D" css=".vc_custom_1580147128348{padding-top: 25px !important;}"][vc_column_text]CONTACT:
Email:  jhammons@tmgtoronto.ca
LinkedIn
Facebook
Phone: 647-477-6812[/vc_column_text][/vc_column][/vc_row]